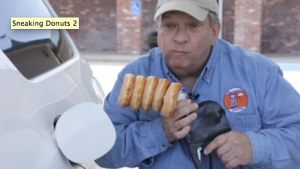 July 18th, 2012
alhebert

Watch a video about one man and 148,126 stores.
[READ MORE]
October 16th, 2013
alhebert
It's pork season!
In South Louisiana, it is perhaps always pork season.  I had a  three pound boneless
pork loin that had to be dealt with soon. I wanted to do something different. I happened to have some of Neil Richards andouille sausage and thought there is no better combination than pork loin and smoked, andouille pork sausage.
SHOPPING
I like to buy my meat in a local meat market, Richard's in Abbeville, LA.  I've [READ MORE]
October 16th, 2013
alhebert
 3-2-1 Cake
When we're not on the road finding great gas station food, I like to find fun recipes for home.
There are a number of recipes for this online. My kids like this one best.
This is a great snack for after school or at the office.
Ingredients
One box Angel Food Cake mix
One box any flavor you like
[READ MORE]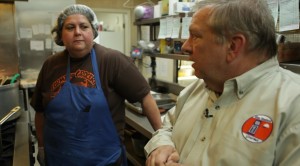 September 12th, 2013
alhebert
There's nothing like the look of delight on a great cook's face when I come into the kitchen.  I offer advice on how to make their popular, signature dishes even better. It feels good when I can help with simple things like "add a little more garlic" or  "stir counterclockwise for poultry gravy."  The latter of course depends on which hemisphere one is cooking.
Fun happens when I get behind the stove and mix it up with these talented people. A guy [READ MORE]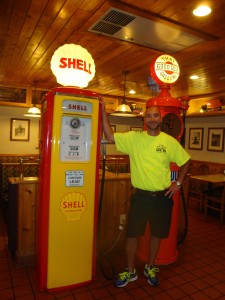 September 10th, 2013
alhebert
Lexington, VA –  When I entered the state of Virginia I stopped at the welcome center. I asked about convenience store and truck stop food. I was told few tourists ask about this. I was the first.  Strange.
I was told not to miss LeeHi Travel Center  off I-64 in Lexington. How many people in welcome centers would think about a truck stop hours away?  This was a place I had to see.  It was a working vacation and the second leg of my Chicken Salad Tour. I smelled a story [READ MORE]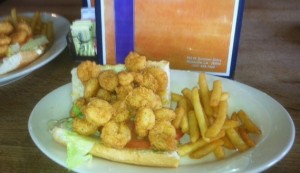 September 10th, 2013
alhebert
Abbeville, LA  – Bourbon Street Delis are located in many ShopRite convenience stores in south Louisiana. If you're going to pay $50 to fill up your tank, you might as well treat yourself to fresh Louisiana seafood at a very reasonable price.
Abbeville is a picturesque little town about 25 miles from the Gulf of Mexico. People here take fresh seafood for granted sometimes. The great cooks here don't take preparing it for granted. They pay close [READ MORE]
September 5th, 2013
alhebert
Josh Blanchet serves great Cajun food and some of the best rice dressing around.
BROUSSARD, LA- Blanchet's Exxon is profiled in the September issue of NACS Magazine. This is the first two-story c-store with a food court I've visited. Subway and Krispy Krunchy Chicken are avaialble. Josh Blanchet throws in Cajun flare with great rice dressing, crawfish etouffee' and other Louisiana [READ MORE]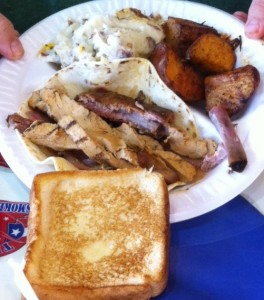 August 30th, 2013
alhebert
Ribs so tender the meat drops off the bone along with chicken fajitas, rosemary potatoes and of course, Texas Toast takes care of a Texas size appetite.
Texas Best Smokehouse-Tyler, TX – is a must-stop truck stop on I-20. You should experience the food and the people here. These ribs are perfectly done. The meat falls off the bone. There's a big choice of sides. The hardest thing is making a [READ MORE]