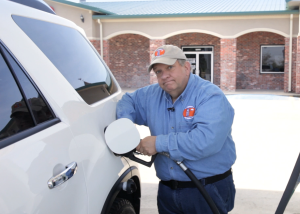 Part travel, mostly food, the Gas Station Gourmet © explores America's undiscovered culinary
treasure, gas station food.  High gasoline prices have not slowed down travel. You need fuel and food when on a trip, but most people don't realize that both can be found in the same place.   Gas station food is more than beef jerky and honey buns.
Al Hebert takes viewers to unique restaurants inside big truck stops and convenience stores.  The GSG celebrates the great American entrepreneur.  These small business owners have the kind of creativity and personality rarely highlighted on traditional food and travel shows.   Each episode begins with a visit to a gas station.  Viewers get a feel for the personality behind the food.  Then it's off to the kitchen to see how everything from chicken balls to boudin is prepared.
Al is a regular contributor to the National Association of Convenience Stores (NACS) Magazine. The Gas Station Gourmet has been a feature on THRIVE TV on KPLC-TV and can be seen online.