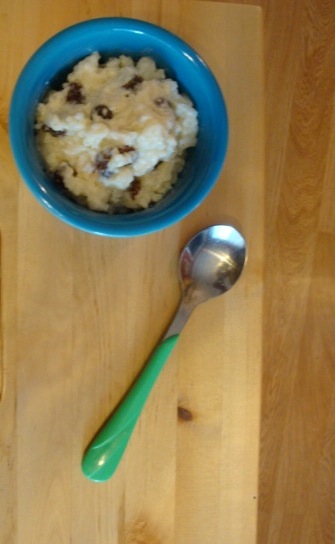 I grew up in a small town in Southwest Louisiana next door to my Aunt Clara and Uncle Joe.
They were much older than my parents, so they were more like grandparents.   This was a wonderful situation, almost like the setting of an O. Henry story. It seems that each day there was some kind of dessert in the kitchen. My favorite was rice pudding.
Rice is king in this region of the state.  There are huge rice farms. rice bins to dry the rice, even a Rice Festival and of course a lot of recipes that include rice.  Rice and gravy is a staple, but for breakfast my Cajun family would have riz au lait, which was simply rice, milk and sugar heated until it thickened.  If you search for this on the web, you will often find  riz au lait used interchangeably with rice pudding.   On our block, there was a big difference.
One day, out of the blue, my wife made rice pudding. She found a recipe and simple made it. I was surprised. Perhaps she was thinking of the time I woke up at 2 am, cooked a package of vanilla pudding and added leftover rice.  That early morning effort was forgettable. My wife's Northern roots disappeared and at that moment, with that rice pudding, she was pure Cajun.
It was just like Aunt Clara's. I sprinkled  a bit of nutmeg on top and was taken back to my childhood. It's not hard to make. It has a nice thick consistency, perhaps a bit oatmeal-like. Adding cinnamon and raisins adds a new dimension.
Low Carb Spin
Since I live in a constant state of carb awareness I asked if we could try something different. I prepared a pot of instant brown rice. The white rice was replaced with brown.  Splenda was used in place of the sugar.  We always use low-fat milk.
I have to warn you, brown rice doesn't give the pudding the same consistency as white, but the difference is almost unnoticeable.  The trade off is fine with me.
Instant brown rice seems to have a smoother consistency. I don't know why.
It's a simple recipe.  Play around with it and make it your own.
What you'll need
3/4 cup cooked white rice. This is a great way to use leftover rice.
2 cups milk- start with 3/4 of a cup. I often use Carnation Vanilla Coffee Creamer for desserts, this adds a smooth vanilla flavor. Try it sometime..
1/3 cup sugar.  You can substitute 1/3 cup of Splenda or add artificial sweetener to taste.
1 egg beaten.  I often add an extra yolk or just two yolks.
1 tablespoon butter
1/2 teaspoon vanilla extract
Directions
In a pan combine 1 1/2 cups cooked rice, 1 1/2 cups milk and sugar.
Cook over medium heat until thick and creamy. Stir this constantly. It will take at least ten minutes.
Stir in remaining 1/2 cup milk, beaten egg, at this point you could add raisins. (As always with the eggs, put a little of the rice mixture aside to warm the eggs rather than adding to the hot mixture.)
Cook 2 minutes more.
Keep stirring.
Remove from heat and stir in butter and vanilla.